Get in Touch
We are here to answer any questions you may have. Reach out to us and we'll respond as soon as we can.
517. 331.2701 Text/Call
www.facebook.com/KickNStyle
www.youtube.com/c/SusanFhaner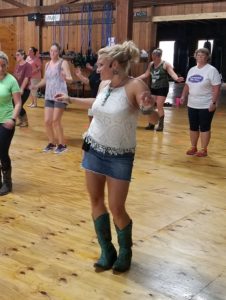 Talk to Us
Contact us through Facebook, email, phone, text. We would be happy to help you.
Review Us
Want to share your experience, good or bad? We are always striving to improve our classes and welcome all feedback. Appreciate any testimonial you would like to add this site. Please contact us today .
Follow Us
Want to keep up with our latest adventures? Follow us on Facebook :
www.facebook.com/KickNStyle
www.youtube.com/SusanFhaner
GAYL
I love line dancing and have been to many instruction classes. Susan is the best instructor I have encountered. She goes out of her way to help and make sure you understand every step of the dance. I need a lot of reputation to help me learn. Susan is with me every step of the way, she is there to help me learn and succeed.
Lupe
In late 2019 I attended my 1st class with my daughters. To our delight, we were blown away. My granddaughter Isabella eventually joined, and saw her joy and confidence grow. Not only do we get to bond dancing as a family, but benefit to exercise. Due to Susan Fhaner's ability, patience, and dedication , Her innovative exciting class is a must! Her variety of music, and dances appeals to all ages. Her knowledge of dances from traditional to new is amazing! She always asks for requests of favorites (traditional & new). I have danced off & on for 20+yrs, and thrilled to have found a great instructor.
Susan motivates all of us to simply move – not perfection!! Her positive attitude, energy, and caring is what makes her unique! She offers a variety of locations and times to attend. The special events she organizes are a blast to participate. I'm lucky to have gained from this – love of dance, friends, and good times.
Michelle
I have always gone to cardio dance classes but I was looking for something new to try. A friend told me about Susans classes at Overdrive. Not only is it a great workout, its fun, and something I can do with a group of friends. We now go Tuesdays and Wednesdays, and look forward to trying a Thursday night at the barn. Susan is a great instructor and always ensures everyone is comfortable with the moves.